Three Buddhas of Longevity
 The Buddha of Longevity in this Thangka is Amitayus Buddha in the center, He has a red body with one    head   and two arms, His hair is coiled, on His head is a crown of five Buddhas, He wears celestial clothing and silk robe, shining with jewels, His two hands lie on His leg with His fingers interlocked, on His hand is a longevity nectar vessel, He sits cross-legged on the lotus moon disc throne, on His lower right is the White Tara with one face and two arms, She has seven eyes, three eyes in Her face, two eyes in Her palm, and the other two eyes in Her foot, She sits cross-legged in Vajra position on the lotus moon disc throne, and on Amitayus Buddha's lower left is the Victorious Hair-Crowned Mother Buddha known as Ushnisha Vijaya Goddess with three faces and eight arms, She sits cross-legged also in Vajra position on the lotus moon disc throne, these three are called Three Buddhas of Longevity.
If the followers often chant Their incantation , they can live longer, achieve true happiness, become wiser and avoid sudden death.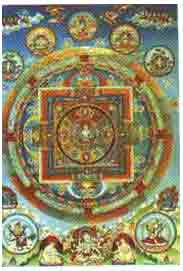 Mandala of Amitayus Buddha
Amitayus Buddha
Sublime Prayer to Amitayus Buddha :
JIG-TEN DREN-PEY JO-WO TSE-PA ME
DU-MIN CHI-WA MA-LU JOM-PEY PAL
GOM-MEY DUK-NGAL JIUR-PA NAM-KHI KHIAB
SANG-JE TSE-PA ME-LA CHAK-TSAL LO
Amitayus Buddha, Bhagawan of the world,     The Glorious conqueror of all deaths which were not in time,     The helper of all beings who suffer without protection,     To You Amitayus Buddha we bow down
Dharani of Amitayus Buddha :
OM NAMO BHAGAWATE
APARIMITA AYUR JHANA
SUPINISH CHITATAYE
JORA JAYA TATHAGATAYA
ARHATE SAMYAKSAM BUDDHAYA
TADYATHA
OM PUNYE PUNYE MAHA PUNYE
APARIMITA PUNYE APARIMITA PUNYE JHANA
SAMBHARO PACHITE
OM SARWA SAMSKARA
PARISHUDDHA DHARMATE
GAGANA SAMUDGATE
SOBHAWA VISHUDDHE
MAHA NAYA PARIVARA YE SOHA
Incantation of Amitayus Buddha  :
OM AMARANI JIVAN TIYE SOHA
A short prayer to Amitayus Buddha :
CHO-KU YING-SU NANG-WA THA-YE TSOL
LUNG-KU NAN-TSOL NING-JE PE-KAR ZING
TRUL-KU TSOL-TEN PAD-MA SAM-BHA VA
GON-PO TSE-PA ME-LA CHAK-TSAL LO
DU-MING CHI-WA MA-LU DUK-DO SOL
TSE-SOD WANG-JOR THU-TOB RIG-TSAL JI
CHI-MED RIG-DZIN  DRUB-PAR JIN-JI LOG
Dharmakaya reflection of Amitabha Buddha,     Sambhogakaya reflection of The Compassionate,The Holder of The White Lotus,     Nirmanakaya reflection of Padmasambhava Buddha,     The Incarnation of Amitayus Buddha entirely, I worship,     Please destroy all life tragedy,     Bless achieving longevity, strength and enlightenment,     Bless achievement rainbow body without death.
Chanting the incantation of Amitayus Buddha would be more benefit if the chanter has received Oral Transmissions from a Teacher who holds The Teaching Lineage.