The Great Thanka of Khanlop Choisum, consisting of the three great masters, Padmasambhava, KhenChen Bodhisattva, and the king of Tibet Trisong Deutsan, this three great masters built the first Buddhist monastery in Tibet, Samye monastery in the eighth century, in addition to teaching the Dharma in Tibet, Padmasambhava also translated the Buddhist Scripture from Sanskrit to Tibetan language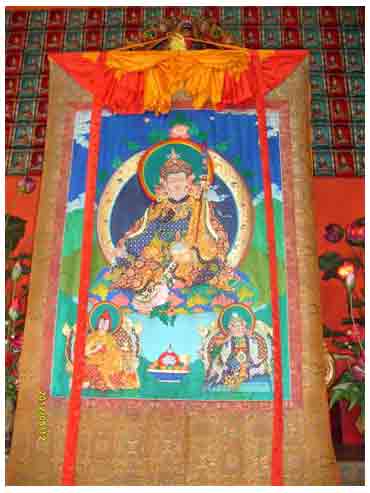 History of  Tibetan Tantric Buddhism,
In addition to teaching in Tharpaling Jakarta – Indonesia, lama Tamding is also to look after Samten Choikhor Ling in Pangoan Rithod, Manali, Distt Kulu, Himachal-Pradesh, India. Samten Choikhor Ling monastery was founded by Dzogchen Khenpo Thubten, before going back to India, in the ritual in Tharpaling Monastery Jakarta on the 20th of May 2012, lama Tamding told us about the history of Tibetan Tantric Buddhism, especially Nyingma tradition, Nyingma means truth of nature, so this tradition lineage is from Kuntu Sangpo ( Adi Buddha) hereditary to Padmasambhava, before Padmasambhava, Tantrayana is only teach in Tushita heaven among the Bodhisattvas and among the Gods, Padmasambhava is the first master who taught Tantrayana between human to human, Padmasambhava taught the secret Tantric Mantra to the human beings also, in the eighth century Padmasambhava brought the teaching of Buddha (Dharma), particularly Tantrayana from India to Tibet, He taught esoteric and exoteric teachings to the King and the people of Tibet, and Padmasambhava together with KhenChen Bodhisattva and king of Tibet Trisong Deutsan built the first Buddhist monastery in Tibet named Samye Ling
Tantric teachings are still preserved from generation to generation until now, there are three ways to preach the teaching of  Tantric Buddhism (Tantrayana), named Wang Lung Trid Sum :
1. Wang   :   Abhiseka / refuge
2. Lung   :   Oral Transmission
3. Trid    :    Description.