Ksitigarbha Bodhisattva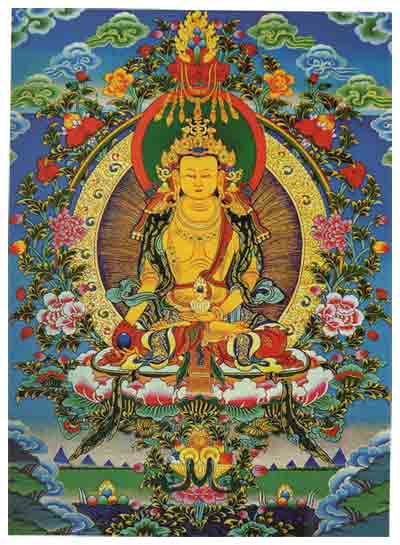 Ksitigarbha Bodhisattva is one of The Eight Main Bodhisattvas. Who is highly respected by The East Asian Community, because of His great vows were truly exceptional and should be an example : " I'll go to The Hell for helping the tortured spirits, if The Hell has not empty of tormented souls. I will not become a Buddha, only when all beings are saved. That I attained The Buddhahood " method of purification through repentance and Ksitigarbha Mantra recitation is a very popular practice in East Asia.
The exercise can be done by anyone and would be more useful if they have received Oral Transmissions from Teachers who hold the Teaching Lineage.
The 30th of seventh month in Lunar calendar is a holy day for rituals or ceremonies to Ksitigarbha Bodhisattva.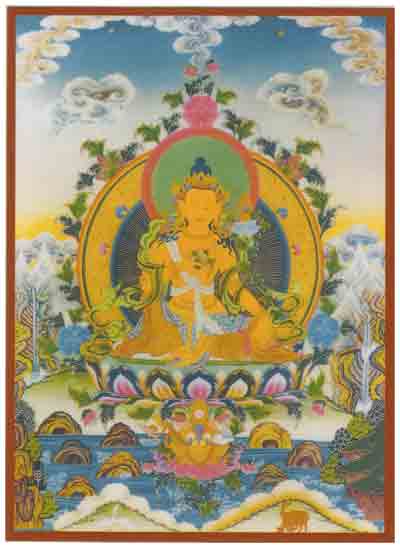 Sublime Prayer to Ksitigarbha Bodhisattva  :
KED-CHIG CHIG-LA SA-YI NYING-POI TSHEN
JE-SU DREN-TE TI-TANG CHE-CHOID NA
NYUR-DU RE-WEI SHING-TA MIG-CHUL SHIN
CHIN-PA NAM-PA DU-PEI CHAR-BEB SHING
SO-NAM PA-SAG PEI-YANG DZOD-GYUR PE
SHING-TU BED-PEI NEN-TEN CHED-PAR LA
To mention, the holy name of Ksitigarbha Bodhisattva,   concentrating all the problems and presents with bow, with a flash like a miracle,   administration of the Bodhisattva as rain falls, all is not perfect to be perfect,   if you want to reach the holy land.
DRO-WEI LA-MA SE-DANG CHE-PE NGAG
KAL-PA SHIN-TU TSHED-MED LU-TON TE
SEM-CHEN RANG-RANG LAM-LA CHOD-SHING PAR
THEG-PA SUM-JI NYAN-DE DRONG-CHER DU
DRO-WEI DED-PEN CHED-LA CHAB-SU CHI
THAB-LA KHA-PE DAG-CHAG MIN-PA DANG
a salute to Teacher,   eons to realize His Body,   if all beings diligently learn the truth,   then surely can reach Nirvana,expected that all beings can do Trisarana ( refuge to Buddha, Dharma & Sangha ),   look forward we doing good,
NGON-PAR DOD-PEI MON-LAM GRUB-PAR DZOD
PA-WO GANG-LA CHIN-PEI THU-YOD CHANG
LE-NGEN WANG-GI CHOD-PEI NU-MED PA
LEG-JE NOD-DU MA-GYUR DAG-DRA LA
LAG-PAR GONG-SHING NYING-JE CHEN-PO CHE
KHOD-TSHEN THO-PEI GE-WA GYA-TSHO LA
what is wanted will be granted,   if we give Alms Paramita,   past Bad Karma powerless,   Well not much reward,must concentrate and beg mercy,   when we hear the name of the supreme Ksitigarbha Bodhisattva,
DED-PEI DENG-KE SUNG-WEI LAG-MA CHEN
CHO-CHEN GYAL-SID DAG-LA WANG-CHOR NE
DRO-WA CHOB-WEI SOD-NAM DU-CHEN JI
PHEN-DEI CHU-LUNG SID-PEI THAR-CHE WA
TSUNG-MED SA-YI TSO-DANG TSUNG-PAR SHOG
TSUNG-MED SA-YI TSO-DANG TSUNG-PAR SHOG
will be protected from The King of Dragon,   The Holy Kings which rotate the wheel of Dharma and Sacred Deities,with the power of Their Reward to help the creatures,   get happiness and avoid rebirth,eventually be born in the holy land,eventually be born in the holy land.
Dharani of Ksitigarbha Bodhisattva :
"   OM SUMBHA NI SUMBHA   HARA JARA   MAHA PASHA   MARUTA   AMOGA    VAJRA SATTVA   SVAHA   "