Vesak 2558BE at TharpaLing Monastery Jakarta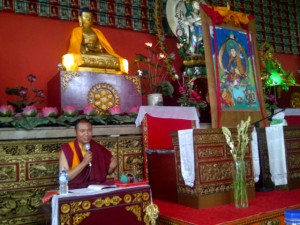 The Vesak ceremony at TharpaLing Monastery Jakarta on May 25th, 2014 was led by Lama Tamding and attended also by Jetsun Wangmo and all Lamas.
In the Dharma teachings, Lama Tamding said that in the Vesak holy month all words and deeds, good or bad, would be multiplied a thousand times, so Lama Tamding encouraged all Dharma Brothers and Dharma Sisters to do seven good deeds that must be done as a Buddhist disciples.
The seven good deeds are :
(1) CHAG TSAL WA : Prostration to Buddha, Dharma and Sangha
*Prostration : Namaskara*
NAMO : DAG SOK DRO KUN CHANG CHUB PAR
TSAWA SUMLA KYAB SU CHI
JHAN DON SANGAY THOB CHAI CHIR
MONJUG DON DAM CHANG SEM KYED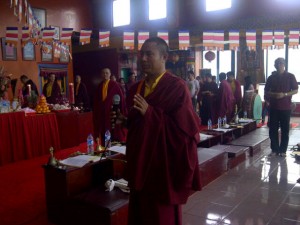 (2) CHODPA PHUL WA : Offering to Buddha, Dharma and Sangha
*Eight Offering *
ARGAM, PADYAM, PUPE, DHUPE, ALOKE, GANDHE, NEIVIDE, SHABDA
( Water to wash, Water to drink, Flower, Incense, Candle, Fragrances, Food, Sounds )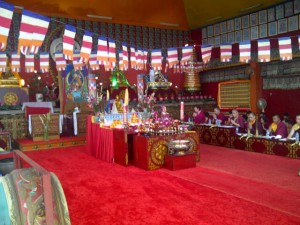 (3) DIGPA SHAKPA : Repentance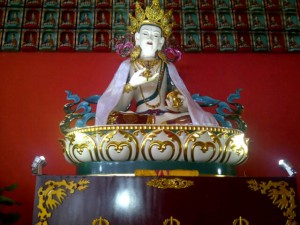 Buddha Vajrasattva's Mantra : mantra of repentance / purgation
OM VAJRA SATTO SAMAYA   MANU PALAYA   VAJRA SATTO TENOPA
TEETHRA   DRIDHO  MEBHAVA   SUTO KHAYO MEBHAVA
SUPO KHAYO MEBHAVA   ANU RAKTO MEBHAVA
SARVASIDDHI MEPRAYATSA   SARVA KARMA SUTSAME
TSITTAM SHRI YAM KURU HUNG   HA HA HA HA HO
BHAGAWAN SARVA TATHA GATA   VAJRA MAME MUN TSA
VAJRA BHAVA   MAHA SAMAYA SATTO AH: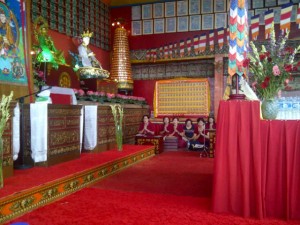 (4) JESU YIRANG WA : Rejoicing
Rejoicing of the good deeds of the others.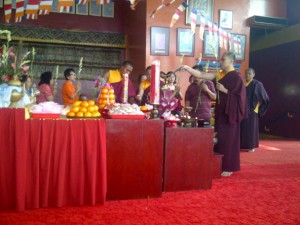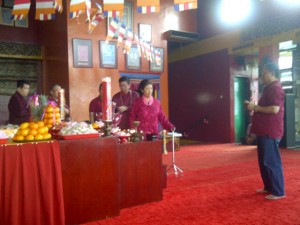 (5) CHOI KOR KAR WA : Requesting
Requesting Buddha to rotate the wheel of Dharma
Requesting Prayer :
SEM CHEN   NAM KHI   SAM PA DANG:
LO YI   JE DRAG   JI TAR WAR:
CHE CHUNG   TUN MONG   TEG PA YI:
CHO KI   KHOR LO   KOR DU SOL: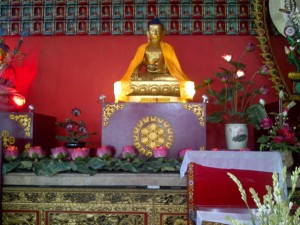 (6) SOLWA DEBPA : Supplication of praise
(7) NGOWA : Dedications for all sentient beings
Dedications Prayer :
SOD NAM DI YII THAM CHED ZIC PA NYID
THOB NE NYE PEI DRA NAM PHAM JE SHING
KYE GA NA CHII BA LAB TRUG PA YI
SID PEI TSO LE DRO WA DOL WAR SHOG