JAMBHALA
Jambhala are incarnations of Buddhas and Bodhisattvas. They are the Bodhisattvas who can give blessing of wealth, health and longevity.
Chenrezig taught us, as disciples of the Buddha, we must run The Six Paramita :
The First Paramita is Dana-Paramita that means Giving,
The Second Paramita is Santi-Paramita that means Patience,
The Third Paramita is Virya-Paramita that means Spirit,
The Fourth Paramita is Sila-Paramita that means Ethics / Moral,
The Fifth Paramita is Dhyana-Paramita that means Meditation,
The Sixth Paramita is Prajna-Paramita that means Wisdom,
Appropriate to The Law of Karma, law of cause and effect, we are taught to plant if we want to reap, we must carry out Dana-Paramita in order to get blessing from Jambhala.
Dana-Paramita is the act of giving, giving is not only in the form of fund.  We can give our time and our energy to help the others, helping the others also means giving.  Pray for the fortune of  the others is also a giving, therefore do not be afraid to do something to give because Jambhala have promised to give blessings to the people who love to give.

The Five Jambhala
There are five Jambhala differentiated by the colour of Their Bodies and the light that They emitted. They are Yellow Jambhala, Red Jambhala, Black Jambhala, White Jambhala and Green Jambhala. It is written in the scripture that there are Five Jambhala in riding horse position.  The Yellow Jambhala rides yellow horse, The Red Jambhala rides red horse, The Black Jambhala rides black horse, The White Jambhala rides white horse and The Green Jambhala rides green horse.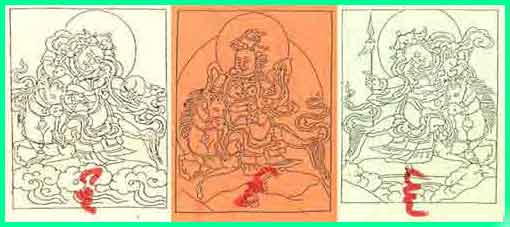 Every Jambhala have Their own Mantra, below are the Mantra of Jambhala:
The Mantra of Yellow Jambhala is :     OM JAMBHALA JALEN DRAYE SVAHA
The Mantra of Red Jambhala is :     OM JAMBHALA JALEN DRAYE DHANAM MEDEHI HRIH DAKINI JAMBHALA SAMBHARA SVAHA
The Mantra of Black Jambhala is :     OM JAMBHALA JALEN DRAYE BASHU DHARINI SVAHA
The Mantra of White Jambhala is :     OM PADMA KRODA ARYA JAMBHALA HRIH DAYA HUM PHAT
The Mantra of Green Jambhala is :     OM KARMA JAMBHALA AH SVAHA
All of the Jambhala have promised to give wealth to us if we love to do The Six Paramita, especially The First Paramita  also diligent to chant Their Mantras. Chanting Jambhala's Mantra would be more benefit if we have received Oral Transmissions from a teacher who holds The Teaching Lineage.