Pekor Chode Monastery was built in 1418 by the Dharma King of Gyantse Rabtan Kunsang Phag and the first Panchen Lama Kedrup Geleg Pesang.
Pekor Chode Monastery is  a non sectarian Buddhist center where Gelugpa, Sakyapa and Butonpa co exist in harmony and peace.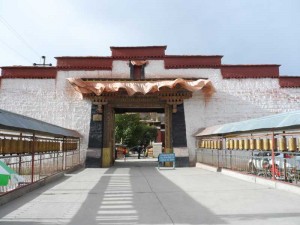 Later in 1427, the Great Stupa Kubum was erected in the pattern of the Multi door Stupa ( Tashi Gomang ), one of the eight prototype stupas of Buddhism. Kubum is of 32.4 meters high, and includes 108 altars where a hundred thousand Buddhist images are enshrined as statues and murals.
In 1996, the Great Stupa Kubum was listed in the key state-level cultural relic preservation unit.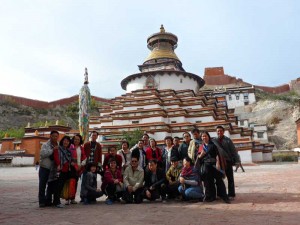 Dharma Brothers and Dharma Sisters of TharpaLing Jakarta in front of the Great Stupa Kubum – Gyantse, Tibet.