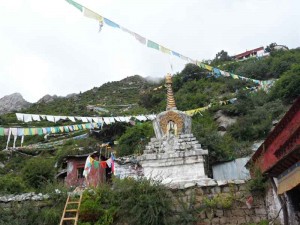 Chimpu Meditation Cave  ( Samye Chimpu )
Chimpu is the mountain where Guru Rinpoche (Padmasambhava) ever do meditaion, known as Chimpu Meditation Cave / Sangtok Pelreg. There are many small and big cave for meditation in Samye-Chimpu. There are also many Stupas and some monastery which are built in Samye Chimpu.
Beside Padmasambhava there are many great masters have also meditated in Samye Chimpu  such as Mahacarya Atisha, Longchenpa, Dakini Yeshe Tsogyal and many others.
The Second Buddha, Padmasambhava said that the Chimpu valley is like an opened lotus, thus seen in its outer aspect, it is in the shape of the petals of an opened lotus, in its inner aspect it is Vajra-varahi's original matrix comprising the three aspects of total liberation, and in its secret aspect it rests in the cosmic expanse of the Vajra Queen's vulva.
Samye Chimpu is a holy place especially for meditation, there are many miracle happen in this holy place.
On the surface of a rock there is Guru Rinpoche / Padmasambhava's footprint two Dom (approx 4 meters) in length.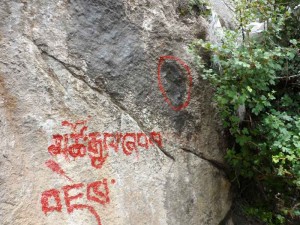 There is also the footprint of Princess Yeshe Tsogyal one of the holy Dakini in Tibet who devoted her life to Padmasambhava.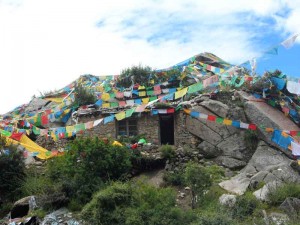 Cave below the rock that has Padmasambhava's footprint. There is Padmasambhava statue carved on cave walls.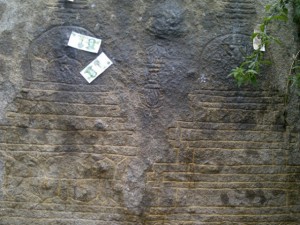 There are also carved of Bodhisattva, Vajra and Stupa which arises by itself on the wall of the mount.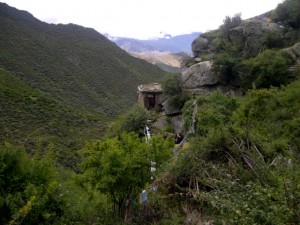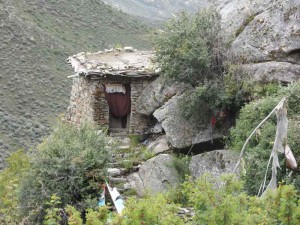 The meditation cave of Longchenpa in Chimpu Maditation Cave ( Sangtok Pelreg ).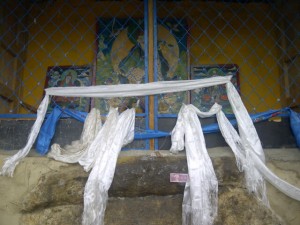 This is a very sacred place where Padmasambhava (Guru Rinpoche)  gave the first Dharma Teachings to the king and the people of Tibet.