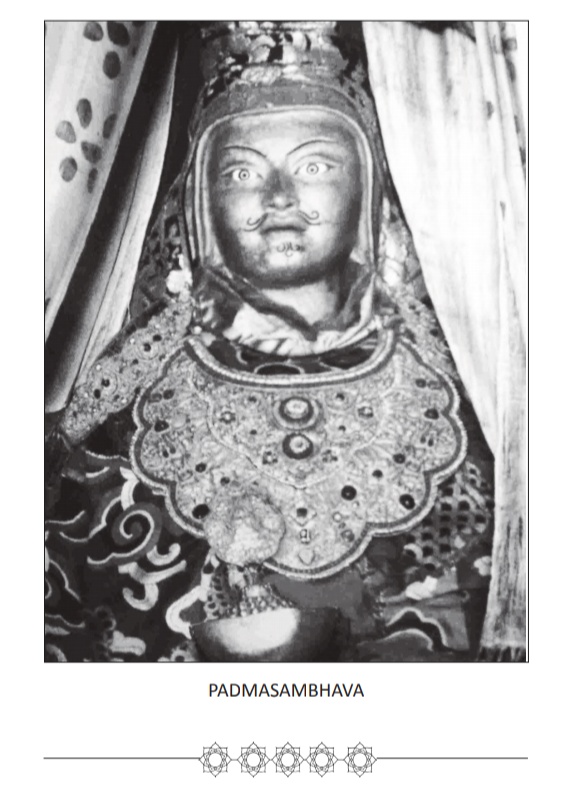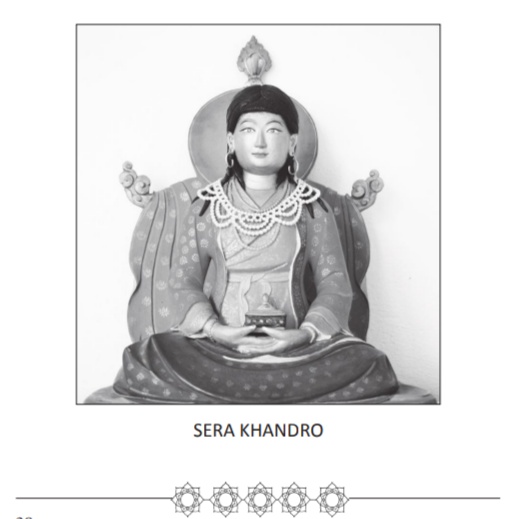 Introduction
THE FOLLOWING BIOGRAPHY of Guru Rinpoché is a fairly typical example of his brief life stories that appear in treasure texts. Dorjé Tso, a Tibetan woman and disciple of Guru Rinpoché, wrote and concealed it, to be retrieved one thousand years later by a reincarnation of Yeshé Tsogyal, Sera Khandro.
As is common in the treasures, the account is short on cold, hard facts. We find Guru Rinpoché the disciple of such great Buddhist teachers as Ananda and Nagarjuna; he comes to Tibet, succeeds in establishing Buddhism there, then leaves for the land of cannibal demons. Apart from a spare recital of Guru Rinpoché's activity, the point of the text seems to be to present a supplication to the Master, and to address what we would now call "abandonment issues." By most accounts, Guru Rinpoché left Tibet, leaving Yeshé Tsogyal and the rest of his disciples to fend for themselves. The question to Guru Rinpoché here is, How should we cope with your absence? His reply is two-fold: regardless of his present location on the globe, he continues to bless his followers, and they should recognize and regard with pure vision his many emanations among them.
Different stories of the Lotus-Born Master's life bring into focus specific aspects of his activity suitable for a specific day and age, which we must assume is the reason for the concealment of treasures intended for one era and not another. Yet one constant theme in Guru Rinpoché's histories is tension and resolution related to the awful fact of his departure. The treasures simultaneously remind each century's followers of Guru Rinpoché's overpowering presence and his enormous absence, and like this treasure text, they often provide solace in the form of a supplication and the advice to see the Master everywhere.
This treasure is, in Tibetan measure of time, very modern, having been retrieved in 1927, according to the date supplied by Tulku Thondup for the birth of Sera Khandro (1899). Sera Khandro was a prolific treasure revealer: four hefty volumes of her treasures are preserved in their modern edition. She also composed texts, incduding two autobiographies, which I have not had the good fortune to read.
Her homeland was central Tibet, but she journeyed to eastern Tibet, where she became known by a nickname that recalled her foreign status, "Wee-mo," the local pronunciation of "Ü-mo," Lady from Central Tibet. Her consort was the son of Dudjom Lingpa (1835-1904), one of the greatest treasure revealers of the nineteenth century. Dudjom Lingpa returned as the spiritual master who led the Nyingma tradition for many years, His Holiness Dudjom Rinpoché (1904-1987). Dudjom Lingpa's son returned as the son of Dudjom Rinpoché, Thinley Norbu Rinpoché; and, according to Tulku Thondup, Sera Khandro lives among us again as Saraswati, daughter of Chadral Rinpoché.